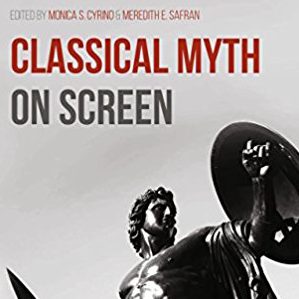 by Meredith E. Safran
Greetings, CSRN Blog readers! I'm writing as the Area Chair for Classical Antiquity at the 2016 annual meeting of the international Film & History Conference in Milwaukee, Wisconsin, USA (26-30 October). The conference is currently accepting paper and panel proposals, as noted in the CSRN facebook page. This year's conference theme is "Gods and Heretics"; the Classical Antiquity section is titled "By Jove! Invoking Ancient Mediterranean Gods on Modern Screens", and will include multiple panels of 20-minute papers exploring the myriad issues that arise when we moderns seek to represent these gods in screen media.
Since 2010, Film & History has provided a fantastic environment for developing new work in Classical Reception. The conference, which began in 2000, is pitched mainly toward scholars working in Media Studies and consists of multiple semi-autonomous "areas," each chaired by a member of the section. For the 2010 meeting, the indefatigable Monica S. Cyrino (Big Screen Rome, Blackwell 2005; Rome, Season One, Blackwell 2008; Rome, Season Two, Edinburgh 2015) established the Classical Antiquity section of the conference. In the subsequent years "Classical Antiquity" has flourished at Film & History, as participants have incorporated our philological and historical training with theories and methods of Media Studies in identifying and analyzing screen texts that engage with the legacy of the classical tradition.
The conference revolves around a different theme each year, chosen by the conference's head organizers. Past themes like "Myth", "Love ", "Golden Ages", and "Journeys" have generated a wide range of analyses by Classicists. To date, participants have produced two edited volumes of revised conference papers: Screening Love and Sex in the Ancient World (edited by Monica S. Cyrino, 2013) and Classical Myth on Screen (co-edited by Monica S. Cyrino and Meredith E. Safran, 2015), both available from Palgrave Macmillan.
My own involvement with the Film & History conference started in 2010, when–on a whim!–I submitted an abstract about the Odyssean qualities of the art-house film Angels & Insects, an adaptation of A.S. Byatt's novella "Morpho Eugenia". Since then, I have presented research papers on film and television series at each iteration of the conference and been amazed at the variety of screen texts and approaches that my fellow scholars have brought to each annual meeting. This marks my third year serving as Area Chair for Classical Antiquity, and I am excited to see what proposals come in for "By Jove!"
As for my professional life outside of my role as Area Chair at Film & History, I am currently in my fourth year as an Assistant Professor in the Department of Classics at Trinity College in Hartford, CT, USA. My dissertation research focused on Livy's representation of the genesis of female civic identity in the first book of Ab urbe condita, which I have continued to develop even as my recent work on classical reception has grown. My interest in strengthening the connection between Classics and other disciplines contributed to my appointment two years ago as the Co-Director of the Trinity Institute for Interdisciplinary Studies (TIIS).
My general charge as Co-Director of TIIS has been to develop and oversee programs that foster discussion across institutionally drawn boundary lines. Some of these programs are designed for a general audience, such as a recent public lecture on the cooperation of religious studies and neuroscience research, or the lunchtime panel discussion on the various ways in which memory is shaped, which included presentations by faculty in Psychology, Germanic Studies, and Classics. Others are closed workshops in which faculty from various departments and programs come together as a reading group, to conduct an ongoing research forum, or to intensively review a manuscript. More information about TIIS programs can be found by clicking here. In general, connecting with faculty from other disciplines has proven an effective way of reminding people about the myriad ways in which the inheritance of the classical tradition continues to inform what scholars investigate now and how they do so. Both faculty and students outside of our field respond with delight when they recognize these connections!
Meredith E. Safran
Assistant Professor of Classics & Co-Director of the Trinity Institute for Interdisciplinary Studies (TIIS)
Trinity College
Hartford, CT 06106