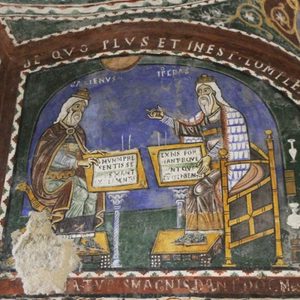 by Helen King (co-convenor of CRSN)
It took me a while to realise that what I do is classical reception. My first degree was in Ancient History/Social Anthropology, so I'd already had an existential crisis as to whether I was a historian or an anthropologist. From my PhD onwards, I've worked not with art or literature, but with medical sources. Ancient Greek and Roman medicine has had a huge influence on medicine up to the present day, whether that's in terms of theories – the idea that what matters is to keep the fluids of the body in balance – or actual remedies – we have papyri that show how recipes were copied and recopied for hundreds of years, with some ingredients being changed but others not. Remedies went on being copied into printed medical texts in the Renaissance and beyond.
But none of this is straightforward. You'll still read that all ancient medicine concerned 'the four humours', but many Hippocratic texts work with other models of the fluids, or indeed ignore them entirely. It was Galen who chose which of the texts he knew were by the 'real Hippocrates', and among them he prioritised On the Nature of Man, where the four humours feature. So, in an early reception, the four humours became 'Hippocratic'. And the image of the historical Hippocrates has shifted over time depending on what was most valued in medicine: bedside manner, effective drugs, extensive training, family tradition.
During my PhD on ancient theories of menstruation, I became aware of how Renaissance writers re-used the Hippocratic texts to tell different stories, asking different questions (for example, 'Did Amazons menstruate?') and weaving classical sources into new patterns. Since then I've written a book (Obstetrics and the Rise of Gynaecology: The Uses of a Sixteenth-Century Compendium, Aldershot, 2007), focusing on how these texts and their supposed author were re-read from the sixteenth to the eighteenth centuries, including the creation of Hippocrates as 'the first midwife' at a time when men-midwives were a controversial addition to the personnel of birthing. It was tough getting to grips with the amount of reading needed to feel confident about saying something on early modern European history. My next book is going to be on modern receptions of Hippocrates – and by modern here, I mean twenty-first century.
I'm currently Head of Department in Classical Studies at The Open University. Much of our work has a reception dimension. It's often through modern receptions, in film or theatre, that our students get interested in Classical Studies. So we benefit from the many ways that people outside Classical Studies can meet the ancient world, but there's still a tension in some UK universities around whether reception is entirely respectable or not. I empathise with this from an ancient medicine perspective. Getting a job in a UK university with a specialism in ancient medicine means showing that you can also teach the mainstream, bread-and-butter modules.
My first 'proper job' after two research fellowships was primarily to teach Roman Britain, and involved being the only ancient historian in a History department. I taught the Roman Empire first-year module too. In Roman Britain, we did watch a lot of episodes of Chelmsford 123 – there were far too many contact hours in the timetable in terms of what was needed – so there was some reception there. Incidentally, I also recently found a link between Plebs and ancient medicine! At the OU I've chaired the second-year gateway module in Greek and Roman history and literature and currently chair the first part of the MA, where I wrote sections which included material on Oxyrhynchus, on ancient libraries but also on Tony Harrison's Trackers – particularly good fun for me to write, because theatre is one of my main interests outside the day job.
If I were working on a PhD at the moment, my key piece of advice would be to keep your career options open. In the UK, you won't find many jobs that ask for reception, but you will find plenty of departments where having a reception string to your bow is very much encouraged. But you'll also find that many jobs expect you to teach one or both classical languages. I've taught Beginners' Latin, and it requires its own set of skills to teach, so make sure you've done some training or gained some experience in this aspect of a potential job. I've been a historian, a medical historian, a gender studies person and a classicist in my job descriptions over my career – so be ready to remake yourself, depending on what's on offer. Of course you can teach Greek History or Ancient Epic – you've needed to understand these areas in order to do reception well – but you do need to be able to win over an interview panel where some people will think your work is 'lightweight'. Reception makes you flexible, so be proud of it!